A unique formula, resulting in softer and squdgier pieces of kibble without compromising on the quality or nutrition of the food.
Eden's Succulent range has been gaining popularity and is favourite among fussy and senior dogs. The unique formulation of the kibble pieces gives a juicer, more succulent bite, which results in an intriguing consistency for fussier dogs and allows senior dogs to bite with ease. This is a complete food, boasting a 60% meat content.
Developed with nutritionists, Eden Holistic Pet Foods strives to support animal health through nutrition.
Formulated Without Grain & Gluten
Naturally Complete, Optimum Nutrition
100% Natural
Ingredients
Benefits of Feeding
Eden Holistic Pet Foods
We are all aware of the benefits of eating a balanced diet and which foods help to fuel our bodies. This works in just the same way for our dogs.
See your dogs thrive on Eden Holistic Pet Foods and have peace of mind knowing what's in your dog's bowl.
A soft and palatable kibble, enticing to the fussiest of dogs
Firmer stools and Less odour showing the body has absorbed the critical nutrients from the food
Tackling pet obesity and helping maintain a healthier weight
Enriched with superfoods providing multi-health benefits
Over the years, we have had many inspiring stories of how our food has helped to improve the lives of so many pets.
But don't just take our word for it; check out our social media and testimonials pages.
Soft & Squidgy
Semi-moist is how we describe the texture of this kibble. Our unique kibble pieces have been formulated to be a softer and squidgier bite, continuing to provide your dog with the highest quality meats, fruits, and vegetables to make a complete food. Our soft and squidgy kibble is sure to pique the interest of your dog, a perfect combination of protein and moisture to stimulate appetite with a more palatable bite.
Mabel
We love the semi moist range...
We love the semi moist range because not only is it a high-quality food packed full of supplements, real meat, and superfoods, it's unique texture also means it's perfect for more sensitive tummies and dogs that prefer a softer texture! Mabel adores it too and its clean bowls every day in our house with Eden semi moist.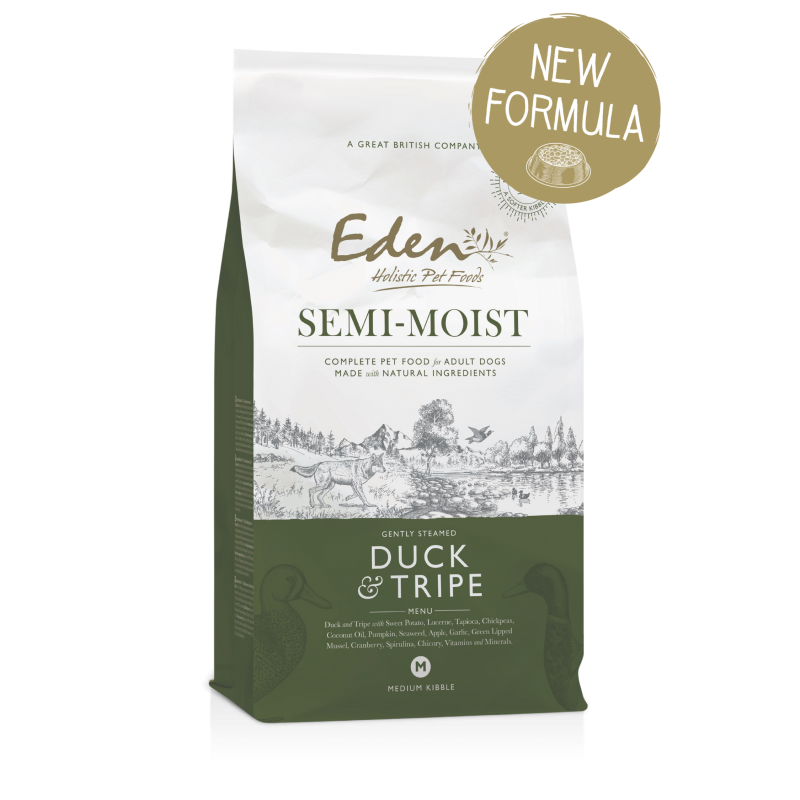 Duck &
Tripe
Duck & tripe is perfect for supporting all-round health and wellbeing with its multiple nutritional and health benefits. Duck is a great source of protein, low in saturated fat and a rich source of most B vitamins. Tripe helps to promote good bacteria in the stomach, eliminating the need to add a pro-biotic.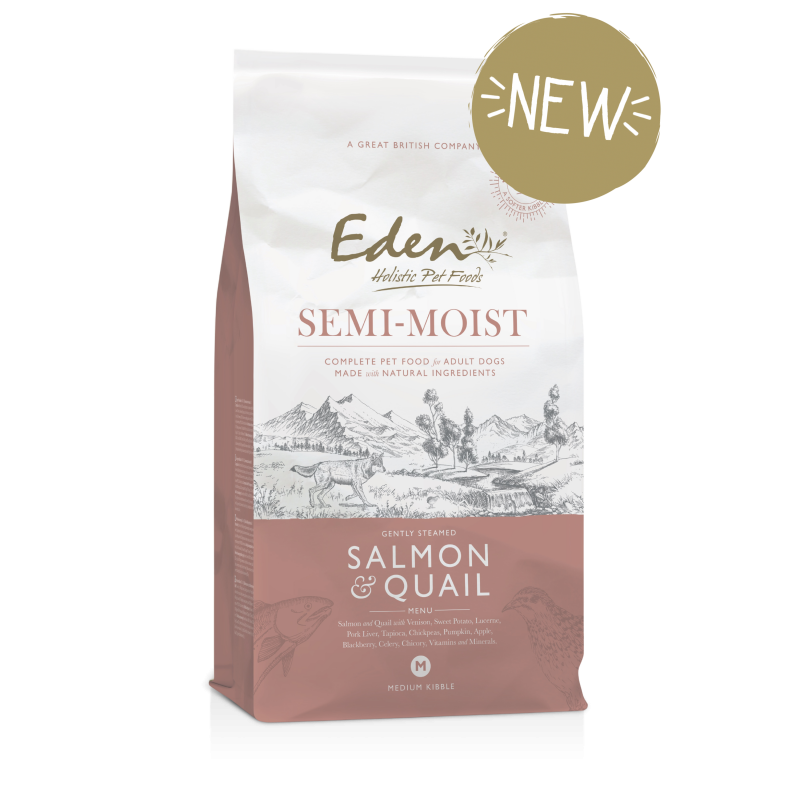 Salmon &amp
Quail
This recipe can be a great choice for dogs with allergies, with our carefully selected novel proteins salmon, quail, pork liver and venison. Both salmon & quail have excellent skin and coat health properties. Quail is rich in vitamin E, which supports healthy skin, whilst salmon is a great source of omega 3, helping to keep your dog's coat shiny and healthy.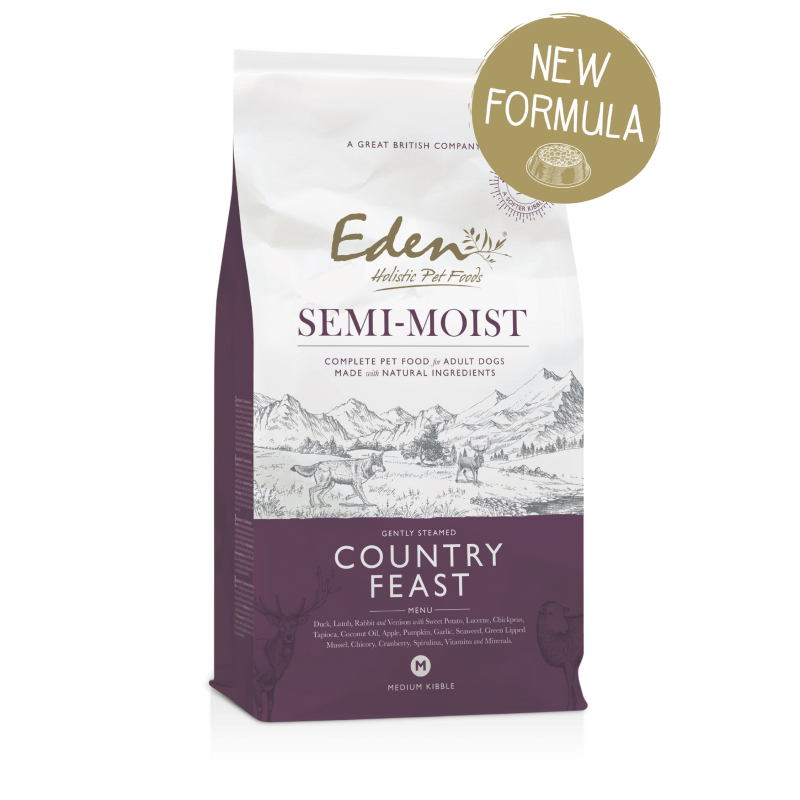 Country
Feast
Inspired by our best-selling Cuisine range, Country Feast contains Suffolk duck, lean rabbit, grass-reared lamb and venison.
This recipe is perfect for active dogs as it contains the highest number of essential amino acids that aids tissue repair. Country Feast also benefits from four superfoods in spirulina, green lipped mussel, coconut oil, seaweed oil and cranberry. Each of these selected ingredients hold their own health benefit. The product contains no chicken.